Ellicott City Sprinkler Repair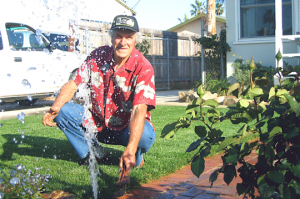 There are plenty of good reasons to choose one sprinkler repair team over another. One of the best is knowledge. We've been installing and repairing sprinkler systems in Ellicott City for the last two decades. During that time we've seen system go from ultra expensive one-size-fits-all models to easily customized, highly affordable systems that are within reach of almost every homeowner. The biggest question we get from people looking to have a system repaired is – why us? What do we offer that other sprinkler teams in Ellicott City don't?
Experience -plain and simple. We've put in and repaired more systems in the Ellicott City area than the next closest competitor three times over. We know everything about the area from the annual rainfall levels and ground soil composition to the best native plantings to use to reduce your need for frequent watering.
What our clients say!
We called Ted at the Ellicot City sprinkler repair company to fix our system controller. He ended up replacing the remote water sensor and saved us quite a bit of money.

~ Paris Relleford ~
They were fast and did a good job. They even cleaned out my valve box even though that wasn't on their list of things to do. I'll use them again.

~ Derrick Jackson ~
I didn't even know that my system could be adjusted to cover the entire lawn. I called them to install new lines, but they were able to get me the coverage I wanted without any new equipment!

~ Marge Marlow ~
I don't know the first thing about sprinklers. But when these guys were done I felt like i knew exactly what they did and how my yard was going to look better because of it.

~ Alice Hendricks ~
We're Your One-Stop Sprinkler Shop

Sprinklers Are Our Business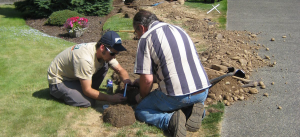 In addition to having more experience than the competition, we are also a one service shop. We don't do sprinkler repair on the side. We aren't jack-of-all-trades repairmen. Sprinkler systems are highly specific and require a good deal of knowledge about water pressure, valve controls, pop-up head diaphragms and underground wiring on the mechanical end and then an equally deep knowledge of local weather conditions, soil absorption and runoff rates and the best ornamental plants and turfgrass covers for a lawn. This isn't a combination that is found in the local handyman or fly-by-night operation. Our professional Ellicott City sprinkler repair staff only does sprinkler systems.
System Auditing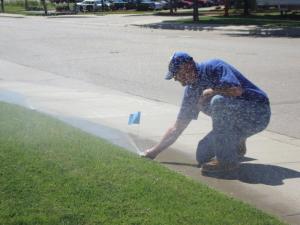 One of the major reasons for getting a sprinkler system installed is to reduce your water usage. What some owners don't realize is the system needs to be adjusted every year to compensate for the growth of plants in planting beds and the rise in turf level. Our Ellicott City sprinkler repair experts will evaluate your current system set-up and timer controls and tweak them to allow you to get the most for your money while not compromising the health of your plants or lawn. Our techs usually suggest a system that takes advantage of rain sensors to adjust the timing of sessions. This will prevent the lawn from being over watered and save you cash by limiting sprinkler cycles to only the times your lawn really needs them. Call our Ellicott City sprinkler repair team to schedule your audit today.
Full System Inspections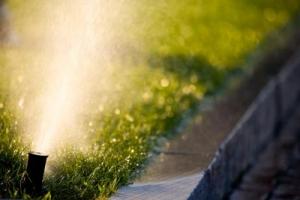 There is an unfortunate myth about sprinkler systems spreading throughout the Ellicott City area. This is absolutely not true. You should have your system checked and tuned up every spring. The winter months can play havoc with a system, especially one that didn't get properly winterized with a blow-out. Pop up heads can crack, diaphragms can dry out and underground pipes can be damaged by ice damming. Our Ellicott City sprinkler repair team starts at your control box or water connection and works through each line individually checking the function of every pop up head and drip line along the way. When we've completed our inspection you'll be given a full report and a rundown of the repairs that need to be made and adjustments that our team suggests. We won't do any repair work until you've approved the written estimate.